List of online tributes to deceased relatives, colleagues, and friends



The Highwayman, a kid brother's memoir
Links to resources
on Westhues-Peters
family history
Eugene Joseph Westhues (1926-2020)
OBITUARY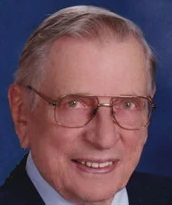 Eugene J. Westhues, 94, of Jefferson City, Missouri passed away on Friday, May 15, 2020 at Primrose Retirement Community, surrounded by family. Gene was born March 27, 1926, in Glasgow, Missouri, a son of the late John and Olive (Conran) Westhues. On January 13, 1957, he married Juanita Kennett at St. Peter Catholic Church in Fulton, Missouri.

After graduating from Glasgow High School, Gene proudly served his country in the United States Army during World War II, stationed in Korea in 1946-1947. Following an honorable discharge, he attended Central College (now Central Methodist University) and the Missouri School of Mines and Metallurgy (now Missouri S&T). He worked for the Missouri State Highway Department for nearly 40 years, retiring as utilities engineer in 1988.

A long-time member of St. Joseph Cathedral parish, Gene was a devoted husband, loving father and doting grandfather. He loved farming, playing golf, and watching his favorite teams- the Kansas City Royals, St. Louis Cardinals, Missouri Tigers, and Super Bowl Champion Kansas City Chiefs.

Survivors include his loving wife of 63 years, Juanita; children: Doug Westhues (Jeanne), Debbie Hilt (Michael), Kristy Yowell (Bob); grandsons: Adam Hilt (Jessica), Eric Hilt, Tommy Yowell (Shannon) and Stephen Yowell; a sister: Dolores Wadle; a brother: Kenneth Westhues; and many nieces and nephews. Gene is preceded in death by his older brothers: John Westhues Jr. and James Westhues; and younger sister: Margie Boschert.

Due to the COVID-19 restrictions, Gene's life will be celebrated during a private family service with inurnment at Resurrection Catholic Cemetery.