______________________
The Chronicle
of Higher Education

Feedback on
John Gravois,
"Mob Rule"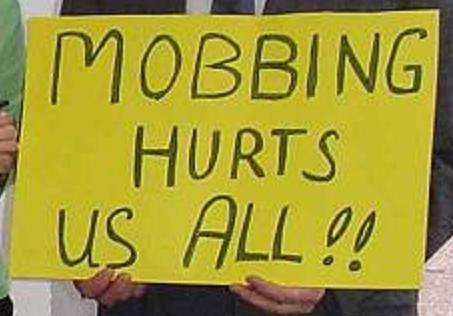 Books!

Click HERE for the Mellen Press pages on the five-volume series of books on academic mobbing.
Click HERE for ordering information, US/Canada and UK.
Click HERE for contents, sample chapters, reviews, etc.
BACKGROUND:

THE STORY BEHIND THE STORY —

"MOB RULE" IN THE CHRONICLE


Kenneth Westhues, 2006
Public awareness and understanding of academic mobbing got a big boost in mid-April, 2006, when The Chronicle of Higher Education published its 3500-word cover story, "Mob Rule: In departmental disputes, professors can act just like animals," by reporter John Gravois. The Chronicle followed up with an online colloquy on April 12, moderated by Tom Bartlett, which attracted more questions than there was time to answer. I received dozens of emails in response from professors and ex-professors in the USA, Canada, Europe, and Australia.
Gravois crafted the article with extraordinary skill, interweaving seamlessly the basic assumptions, tenets, and findings of the mobbing research with references to varied cases and in particular, two professors mobbed at Southern Illinois University in Carbondale. Gravois had spent three days with me visiting SIUC, and thus could enliven his presentation of abstract social science with local and personal observations. In National Review Online, Candace de Russy described Gravois's article as gripping; others gave similar compliments. The article shows journalism at its best: accurate, informative, insightful, balanced, engaging, clean.
Yet everybody concerned about academic mobbing needs to know, reflect on, and take lessons from the story behind the story: the messy background, the years of reading, soul-searching, analyzing, discussing, letter-writing, email-sending, organizing, protesting, and even mourning, by a handful of professors in Carbondale. Gravois's and my visit there and The Chronicle's publication of his article about the trip were the culmination of a long, courageous struggle on that campus by professors of disparate politics, personalities, and disciplines.
I address the paragraphs below especially to the professors far and wide who have emailed me in desperation, threatened as they are with loss of careers they love. The lesson from Carbondale is that the best hope for fair, constructive resolution lies in mutual support and adroit collective action, campus by campus, to bring the problem of mobbing into the open, expose specific cases and demand their correction, thereby fostering an academic environment wherein all professors can do their best work without fear of being ganged up on and run out of their jobs.
Protest at SIUC in 2005: Mobbing hurts us all
The photo below shows four champions of the mobbing-awareness movement at Southern Illinois: from left, sociologist Mark Schneider, linguistics professor Joan Friedenberg, social work professor Elisabeth Reichert, and math educator Jerry Becker.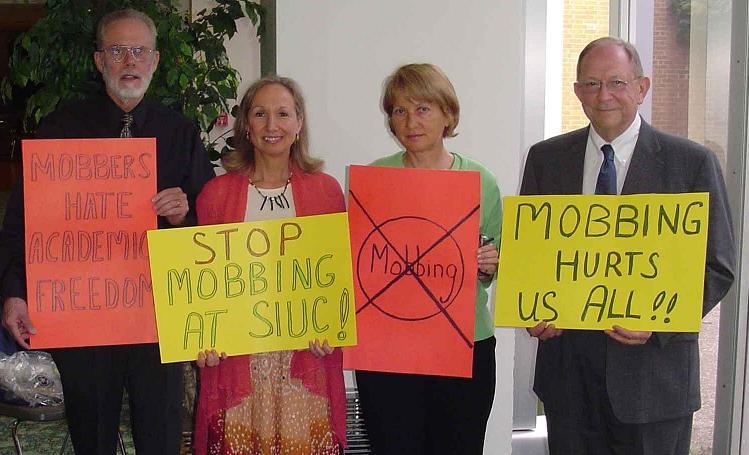 They are holding the placards they carried to a meeting of the Board of Trustees of their university on 9 March 2005, where they made a well-prepared, factual, forceful presentation on workplace mobbing in academe (pp. 22-33 of PDF). Schneider served as moderator, and the other three each summarized the bizarre collective attacks to which they had been subjected in their respective academic units, and to which Gravois would allude in his article a year later.
Friedenberg has allowed me to publish on this website her detailed account of that presentation, the logistics it involved and the thinking behind it. Any professor attempting something similar would do well to study her essay.
That presentation itself was the outcome of events years earlier that nicely illustrate how social scientific movements get started and develop. Elisabeth Reichert was probably the first professor on the SIUC campus to understand the word mobbing in the sense Heinz Leymann gave it, in his studies of workplace stress and trauma. This is because she keeps in touch with friends and colleagues in her native Germany, where Leymann's work and the word mobbing are well-known. In the midst of her troubles in the Faculty of Social Work at SIUC, Reichert's husband came across in a bookstore and bought for his wife the first book on workplace mobbing published in the USA, the 1999 paperback by Noa Davenport and her colleagues in Iowa. That book's references led Reichert to my 1998 book, Eliminating Professors, which she then called to Friedenberg's attention in connection with the latter's troubles. Friedenberg infomed her husband, the sociologist Schneider, about academic mobbing, and the latter passed the information on to Becker, in connection with whose grievances Schneider was acting as a union adviser. In August of 2002, Friedenberg sent me an email, a contact that led to her trenchant chapter in my 2004 book, Workplace Mobbing in Academe.
In the spread of awareness of mobbing in Carbondale and the mobilization against it, Friedenberg has played the leading role. She has been the maven. In November of 2002, she referred David S. Clarke, a recently dismissed professor of management of technology at SIUC, to Eliminating Professors. He found that it fit the attacks that had led to his ouster. He contacted me and eventually contributed a painful chapter to my 2005 book, Winning, Losing, Moving On: How Professionals Deal with Workplace Harassment and Mobbing. Tragically, this mobbing target did not live to hold a copy of that book in his hands, nor to read Gravois's article. David Clarke committed suicide in a village of western France shortly after returning to me the corrected page proofs of his chapter.
Setting the stage
Three specific developments at Southern Illinois more immediately set the stage for The Chronicle's story on mobbing in academe. First, on April 11, 2005, eight history professors collectively denounced their colleague, Jonathan Bean, in a letter in the campus newspaper, The Daily Egyptian, for having assigned in one of his courses an article they found objectionable and racist. Dean Shirley Clay Scott sided with them: she sent Bean a finger-wagging letter and re-assigned his TAs. In a news article about the conflict, Friedenberg was quoted as calling the attack on Bean "a classic case of mobbing." In an email to the professors involved, asking them to record carefully the facts of the dispute, I agreed with Friedenberg. The conflict was debated in the press for weeks, and not only locally. In FrontPageMagazine, Thomas Ryan called the attack on Bean "An Academic Witch Hunt." Ryan attacked Bean's attackers in equally demonizing terms as they had used in their attack on Bean. The dispute was still smoldering a year later, when Gravois and I visited SIUC, and Gravois reported both sides of it in his article.
A second development was in Friedenberg's own mobbing, for redress of which she had taken the university to court. After five years of wrangling and delay, at last in January of 2006, the university settled with her out of court. She won a public apology, $50,000, and her final year on the faculty free of duties with full salary, up to her retirement in 2007. With her accustomed forthrightness and courage, Friedenberg declined to keep the settlement secret, instead gave the full story to Zack Quaintance, an unusually able reporter for the Daily Egyptian. She also gave Quaintance my name; he phoned me and then incorporated in his story some quotes about mobbing from me. The Daily Egyptian published his detailed account on the front page on its issue of January 16, 2006. More coverage followed, explicitly framed in terms of the mobbing conceptualization. It was this news about Friedenberg that caught the attention of John Gravois at The Chronicle in Washington. Gravois phoned me on January 24, enlisting my help for a possible story on mobbing in academe. I was glad to answer his questions, and Mellen Press sent him my books.
A third development happened at the other campus of Southern Illinois University, the one nearer St. Louis in Edwardsville, and bore initially no connection to the events in Carbondale. While Gravois was reading books and shaping the scholarly foundation of his eventual article, his colleague at The Chronicle, Tom Bartlett, published on February 6, 2006, a story entitled "The Rumor," about how malicious gossip had eventuated in the ouster of business professor Chris Dussold from his position on the Edwardsville faculty. A friend of mine at Suffolk University in Boston, law professor and mobbing researcher David Yamada, emailed Bartlett's story to me. I recognized it as an almost archetypal case of mobbing, the more interesting because Dussold was fighting back in court. I therefore emailed Bartlett, Dussold, and Gravois, letting all of them know this was precisely the kind of conflict that the mobbing conceptualization helps illuminate. Dussold replied with appreciation, and soon contacted Friedenberg in Carbondale.
The trip to Carbondale and campus politics
By mid-February, Gravois was asking seriously if I would mind his accompanying me on my planned trip to Carbondale, where I would give a lecture and interview participants in the apparent mobbing cases there. Friedenberg had invited me to that campus more than a year before, and we had scheduled my visit tentatively for the spring of 2006. I still had not personally met her or any of the others involved in the anti-mobbing movement at Southern Illinois. By late February, we had set the visit for 23-25 March. My talk was scheduled for Thursday night. I would spend Friday conducting interviews.
I informed Gravois that I planned to fly to Evansville, Indiana, on the morning of the 23rd, rent a car and drive to Carbondale, stopping for an hour along the way to breathe the air in New Harmony, the storied town where Georg Rapp and Robert Owen tried to realize their respective utopian ideals. I told Gravois he was welcome to meet me at the Evansville airport and ride with me in the rented car. He said no, that The Chronicle's rules forbade accepting such a favor from someone being reported on. He then offered to rent a car at The Chronicle's expense and let me ride along with him. I agreed in a blink.
During the weeks immediately preceding my intended visit (which was now our visit, assuming Gravois would indeed show up in Evansville), Friedenberg and I worked at what turned out to be cross purposes. Her objective was to persuade the faculty union and sundry academic departments to join in sponsoring my talk, thereby ensuring an audience and securing money with which to pay me an honorarium. She succeeded admirably in acquiring multiple co-sponsors, but I then messed up her plans by emailing some of Bean's attackers with requests for interviews. I was eager for feedback on the mobbing research not only from apparent targets (Friedenberg, Becker, Reichert, Dussold, and the most publicized of them all, Jonathan Bean) but also from apparent mobbers — professors and administrators on the "other side." I therefore emailed Robbie Lieberman, Rachel Stocking, Natasha Zaretsky, and Shirley Clay Scott, politely asking for time to meet on Friday and informing them that the Chronicle reporter would probably be with me. These were the most visible figures in the attack on Bean, and they were among those I had asked to keep factual records of the conflict a year earlier.
All the apparent mobbing targets agreed to meet with me, but for one reason or another, none of Bean's attackers was able to do so. Lieberman contacted Gravois on her own to give him her side of the story (which he dutifully reported in his article). She and the others apparently saw me as more or less a write-off, on account of my having publicly said I thought Bean had been mobbed.
There then arose a movement among faculty (principally Bean's attackers, so it appeared) to persuade the various co-sponsors of my talk to withdraw their sponsorships. This movement met with considerable success. Indeed, on the Tuesday before my Thursday lecture, with flyers already posted and distributed, the five-member executive of the faculty union sent a memo across campus officially withdrawing its support of my lecture. The memo said they had "recently received additional information leading us to believe that we were not simply supporting the Westhues lecture, but also funding activities that appear to side with particular parties in current disputes. We are also concerned that these activities are designed to generate publicity. As a result, we are no longer confident that our support would fulfill its intended purpose of furthering informed discussion."
The union's withdrawal from sponsorship was regrettable but not surprising. Unions value solidarity. Disputes among members tie the typical union up in knots. If a union's leadership finds ten members squared off against one, it usually sides with the ten. That is one reason unions are often of little use in correction of mobbing episodes.
Nonetheless, an email came from Friedenberg saying "the show will go on." I am still not sure who sponsored my lecture. At the ambrosial reception afterwards I was introduced to a thoughtful older gentleman, a professor whose name I had not heard before, and informed that he had anonymously given money for the event. Exactly who the sponsors were is neither here nor there. The important point, not easily gleaned from John Gravois's elegant article, is that his and my visit to Carbondale, like everything about research on workplace mobbing, was born of conflict and would never have materialized without the skillful, determined efforts of professors bent on rising above bipolar conflicts and shedding light where, in the darkness of animosity, there has mainly been heat.
Gravois observed, for example, that the SIUC provost "sat in the back row, scribbling notes." This was true. It was a welcome sign of interest from the university's administration, whose support is crucial to creating a campus climate conducive to dialogue and aversive to mobbing. The provost would not likely have been present, however, had Friedenberg not publicized the event among administrators and sent the chancellor a gracious letter about it (to which he responded with equal graciousness).
The interviews on Friday, from which Gravois picked up a lot of the information in his article, were remarkable for how well the interviewees had prepared themselves: summarizing concisely the key events of their cases and providing key documents. Our time with each one was short: an hour with Bean, then Reichert, then Becker, lunch with Dussold, finally coffee with Richard Fedder, a lawyer and ACLU activist, also the husband of historian Robbie Lieberman. I appreciated the meeting with Fedder in a special way, since he was as close as I got to Bean's attackers. Fedder expressed wholly legitimate concern for protection of free speech. He and I agreed on the undesirability of laws against hate speech. While voicing concerns about the article Bean assigned, Fedder said he didn't believe Bean was a racist.
Having shepherded us from one appointment to the next, discreetly withdrawing in between, Friedenberg and Schneider then nvited Gravois and me to share a sabbath meal with them Friday night. I was poor company, my head still swimming from the intense, exhausting conversations of the day (one perk of doing research on mobbing is the chance to meet so many bright, interesting people; dullards tend not to get mobbed).
Conclusion and lesson
The conclusion of this "story behind the story" is that Gravois's rich, engaging article was not written in a vacuum. It reflected more than his hard work and mine. The great leap forward in public education about academic mobbing that his article represents was possible only because of the torturous years of effort by the professors at Southern Illinois who hosted us. Gravois's article required the skillful collaboration of many others, too — editors at The Chronicle, photographers, design and production staff, and on and on — but the professors on site who years earlier had looked beyond specific cases to focus on mobbing as a common, public problem deserve acknowledgement above all.
Their lesson to all of us is plain. It is not enough to seek correction and remedy of mobbing cases, one by one. We need to educate ourselves about mobbing at a more general level and cooperate toward finding effective new ways of structuring academic life so as to bring out the best in all of us. As we join in ths collective effort, we may find specific cases easier to correct, the wounds of humiliation easier to heal, and the dialogue at the root of academic life easier to achieve.