---
New in 2016! Four-part series about a puzzling, poignant album composed by an unidentified teenage girl in Glasgow, Missouri, in the 1860s:
Who Was Mary? A Civil War Mystery
---
From 2014, the 150th anniversary of the Battle of Glasgow, two articles from The Glasgow Missourian that lay out the most important facts about it:

"The Battle of Glasgow Was a Waste, a Small Victory on the Way to Defeat,"

and

"The Battle of Glasgow's Best Legacy."


---

The Dream of
Thirteen Men: Glasgow
Kenneth Westhues
Glasgow, Mo.:
Glasgow Lions Club
1966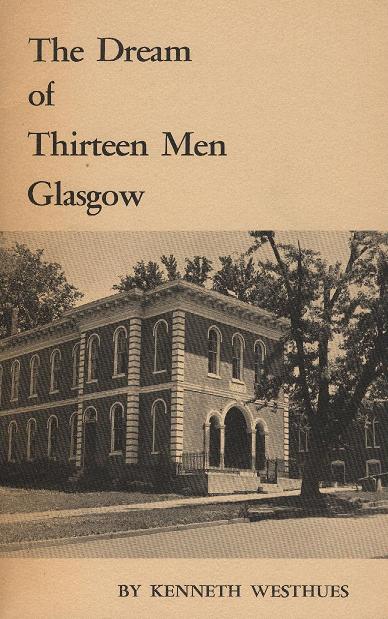 This history of one of the main towns in the Boone's Lick is not a great book, but no history of the town had yet been written, and it was the best the author could do at the age of twenty-one.
In 2001, the Friends of Lewis Library included selections from The Dream of Thirteen Men in their gorgeous illustrated volume, Glasgow: the Way It Was, edited by Judy Bentley and Kathy Hagedorn. The latter is available at Glasgow City Hall. Copies of the former are regularly available on ebay and at alibris.


Prairie Fire:
An Autobiography,
1902-1972
Waterloo, Ont.:
K & A Westhues
1992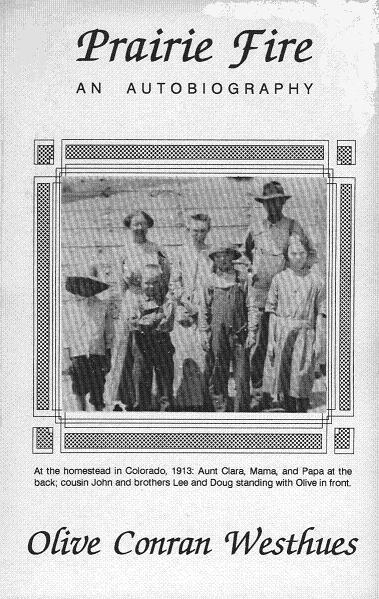 For more information on this book, click here. Copies are regularly available on ebay or at alibris. Of relevance to Boone's Lick history are Chapter 3, a depiction of the town of Glasgow, Mo., in 1918, and the subsequent chapters on the author's life on a farm northeast of the town from 1922 to 1972.

This may be the single most powerful work of literature to have yet come out of the Boone's Lick, though the social and economic relations it describes are from an era much later than the frontier agrarian economy that originally defined the Boone's Lick. The setting is primary industry in mid-20th-century capitalism: the "Monkey's Nest Mine" near Moberly, where coalminers daily risked death for a meager livelihood.
Conroy was born in the mining camp in 1898, the son of an Irish-American coalminer who had earlier been a Catholic cleric in Canada. Conroy tells his father's story, from his organizing for better pay and working conditions to his eventual death in a cave-in. This autobiographical novel brims not just with proletarian anger but with compelling insight into the wage slavery to which chattel slavery in this part of Missouri had given way.
For more on Conroy, click here.

Boone's Lick Literature

ONLINE RESOURCES
2006, expanded 2007, 2008, 2014, 2016

Kenneth Westhues, Professor of Sociology, University of Waterloo, Canada
This is a beginning of what I hope will become a comprehensive annotated list of online literary reflections of the Boone's Lick region of Missouri. I would be grateful to receive additional citations and links by email.
Preface
The Boone's Lick, sometimes spelled Booneslick or Boonslick, is a region of central Missouri centered on a saltspring located about halfway between the towns of Boonville and Glasgow, across the Missouri River from Arrow Rock. Click here for a map.
In 1804, Meriwether Lewis and William Clark observed saltsprings in the area on their famous voyage upriver. The springs were called licks because here as elsewhere, animals liked to lick the salty residue around the springs.
In 1805, Nathan and Daniel M. Boone, sons of the famous frontiersman, started a business at one of the licks, and it was called by their name. They evaporated the water by boiling it in kettles, then shipped the distilled salt by keelboat to St. Louis. The Boone brothers also blazed an overland trail to their saltspring from St. Charles, a route that came to be known as the Boone's Lick Trail. Their business lasted about a quarter-century, the period in which American settlers flooded into the region. Because the Boone brothers' lick was the source of a necessary commodity and because the westward trail was named for the lick, the surrounding region itself (what are now the counties of Howard, Cooper, Saline, Boone, Chariton, and Randolph) came to be known as "the Boone's Lick." The defining saltspring is now a 50-acre state park.
The settlers were mainly from Virginia and Kentucky, travelling by boat down the Ohio, then up the Mississippi and Missouri Rivers. They brought with them the culture of the South and created a network of institutions — plantation economy, slavery of African-Americans, Protestant religion, Jeffersonian democracy, local governments, schools, colleges, newspapers, banks, and so on — that only gradually came apart in the later nineteenth century. Many vestiges remain in the present day. Another name for the Boone's Lick even now is Little Dixie, the northernmost island of southern culture. From the 1820s until railroads were built after the Civil War, steamboats were the main medium for transportation and trade between the Boone's Lick and the outside world.
From fewer than one thousand Americans in 1805, the population of the Boone's Lick swelled to about 33,000 in 1830 (a quarter of the state population), 95,000 in 1860 (10 percent of the state population), and 143,000 in 1880 (7 percent of the state population). The population in 2006 is smaller, about 85,000 (.01 percent of the state population), if one excludes Boone County, where the city of Columbia grew around the main state university. Most of the oldest municipalities in the Boone's Lick (Boonville, Glasgow, Fayette, Brunswick, Marshall, Huntsville, Keytesville) are little if any larger than they were in the late nineteenth century, and the population of the countryside is far smaller.
The literature of the Boone's Lick includes all written expressions (essays, novels, memoirs, histories, poetry, newspapers, letters, and so on) of the culture created in this region during its first century. This webpage is intended as an annotated guide to that literature, so far as it is electronically available.
My interest in this topic reflects my own origin. I am from the Boone's Lick but not of it. I was born and raised on a farm near Glasgow, in the heart of the region, but my father's family had arrived from Germany only in 1892. My mother's Irish-American family had moved to Glasgow still later, in 1918. Both these families, like many others in our mainly German-Catholic community, owned small farms carved out of former plantations, and indeed lived in farmhouses originally built as plantation manors, before the foundational culture met defeat in the Civil War and began to dissipate. Click here for a photo of my German grandparents in 1896, posing with their first eight children in front of their antebellum American home, where southern gentry had earlier been tended by black slaves. My father is the baby in his mother's arms.
I thus grew up in a community distinct from Boone's Lick culture but I was surrounded and fascinated by its remnants. I am no longer surrounded by it, having left the region many decades ago, but the fascination endures.
The first list below is of primary sources, mainly from the nineteenth century. The second section consists of more recent reflections, commentaries, and historical writing. Both sections are arranged alphabetically by author.
Primary Sources
Bruce, Henry Clay, The New Man: Twenty-Nine Years a Slave, Twenty-Nine Years a Free Man (York, PA: Anstadt, 1895). A former slave's autobigraphy. Early chapters compare the Boone's Lick and the deep South with respect to everyday plantation life. After the war, Bruce learned to read and write and had a long career in the civil service in Washington. His brother, Blanche K. Bruce, was the first African-American to serve a full term in the United States Senate.
History of Howard and Chariton Counties, Missouri (St. Louis: National Historical, 1883). A comprehensive history of two of the main Boone's Lick counties, beginning with a summary of the state's history, then accounts of each of the two counties, township by township, and finally about 500 pages of biographies of leading citizens.
Library of Congress "American Memory" Collections. Search the collection for any town or person in the Boon'e Llick, to find legal documents, photographs, and other historical records.
McGee, Perry, slave narrative, 1937. McGee was born into slavery in 1850 on the Swinney plantation near Glasgow, where Berenice Morrison-Fuller (see below) lived with her grandparents. With gentle humor and generosity, McGee recounts as an old man his early life on the plantation during the civil war. A careful search of slave narratives in the Federal Writers' Project might yield additional memoirs by former Boone's Lick slaves.
Morrison-Fuller, Berenice, "Plantation Life in Missouri," magazine article, 1937. Innocent recollections by a child of privilege, granddaughter of Capt. William Swinney, who owned tobacco factories and the large plantation, "Sylvan Villa," near Glasgow. In 1874, as a wealthy young heiress, she endowed Morrison Observatory at the Pritchett Institute in Glasgow; it was later moved to Fayette, where it is now part of Central Methodist University.
Rice, Spottswood, letters to his children and to Kittey Diggs, 1864. Eloquent, poignant assertions of paternal love by a former slave on a tobacco plantation near Glasgow. After service in the Union army, Rice became a minister of the Methodist Episcopal Church, pastor of congregations in Missouri and Kansas.
Twelvetrees, Harper, The Story of the Life of John Anderson, the Fugitive Slave (London, 1863). Biography of a famous child of the Boone's Lick, born near Fayette about 1830. In August, 1853, Anderson was sold in Glasgow for $1000 and transferred to a plantation in Saline County. He fled the next month to Canada. Along the way he killed Seneca Diggs, a plantation owner trying to arrest him for running away. The question of whether Canada should extradite Anderson to be tried for murder in Missouri became a major issue in British-American relations. Anderson was not extradited. He became a celebrity in England and moved to Liberia in 1862. For an analysis of legal aspects of the Anderson case in Canada, see Patrick Brode, The Odyssey of John Anderson (University of Toronto Press, 1989).
Vaughan, Victor Clarence, A Doctor's Memories (Indianapolis: Bobbs-Merrill, 1926). Vaughan's childhood was on a plantation near Mount Airy in Randolph County, before and during the Civil War. His portrayal of Boone's Lick life is from the vantage point of the plantation owner's son, and with the broad perspective he gained in a long career as a physician, researcher, and educator. He was Dean of Medicine at the University of Michigan and president of the American Medical Association.
Walton, Robert S., Pictorial and Biographical Edition, Armstrong Missouri Herald, 1896. What makes this portrait of a small Howard County town so captivating is the young author's graceful, respectful, affirming style. Orphaned as a child and raised by his grandparents, Walton (1869-1948) bought the Herald when he was 20 years old. From then until his death, he made the paper an instrument for nourishing community. He was a kind of Boone's Lick counterpart to the legendary William Allen White.
Later Literature
Appel, Susan K., "Registration Form for the Glasgow Commercial Historic District, National Register of Historic Places," 1991 (U.S. Department of the Interior, National Park Service). Art and architectural historian Susan Appel headed the team responsible for this government document. Written with interesting detail and unusual fluency and grace, it describes 30 surviving Glasgow buildings in the context of the town's economic history. The 79-page PDF (which may take a couple of minutes to download) includes maps and photographs.
Denny, James M., "The Manitou Bluffs on the Missouri River," Missouri Folklore Society Journal and Boone's Lick Heritage (1997). A native of Glasgow and descendant of founding families, Denny has kept Boone's Lick history alive through his work as an historian at the Missouri Department of Natural Resources. In this article, he describes the aboriginal pictographs on bluffs overlooking the Missouri River near Rocheport. Denny is co-author of the Atlas of Lewis and Clark in Missouri (University of Missouri Press, 2003).
Dyer, Robert L., "A Brief History of Steamboating on the Missouri River with an Emphasis on the Boonslick Region," Boone's Lick Heritage 5 (June 1997). Historian and songteller, Bob Dyer (1939-2007) was both a superb entertainer and a walking encyclopedia of Boone's Lick history. He performed and lectured in Missouri schools and as "riverlorian" for the Delta Queen Steamboat Company. The quarterly journal he edited is the single main outlet for contemporary Boone's Lick scholarship. See Big Canoe Records for the album released in his memory in 2008.
Emerson, F. V., "Life along a Graded River," Bulletin of the American Geographical Society 44 (1912), pp. 674-681 and 761-768. A professor at the University of Missouri, Emerson had been the first person in the United States to receive a Ph.D. in Geography (from University of Chicago in 1907). His articles describe how the natural environment defined by the Missouri River's meandering course shaped the ethnic, economic, cultural and legal aspects of the Boones's Lick region in the nineteenth century.
Fuenfhausen, Gary Gene, illustrated website of a Little Dixie historian living on a Cooper County farm. Links to text and photographs on southern architecture in the region and on slavery in Clay County, just west of the Boone's Lick region.
Geiger, Mark W., Missouri's Hidden Civil War: Financial Conspiracy and the Decline of the Planter Elite, 1861-1865 (University of Missouri, 2006). This fluently written thesis for a PhD in history crackles with insight into the political economy of the Boone's Lick before, during, and after the Civil War. Geiger shows how a network of kindred bankers raised money for the secessionist cause in a way that incited bushwhacking and social breakdown, and brought ruin to the planter class. Geiger bases his study especially on data from Cooper, Saline, and Pettis Counties.
Lay, William D., "Civil War Incidents in Howard County, Part I, 1861-1863," Boone's Lick Heritage 5 (December 1997). Also "Part II, 1864." Concise accounts, chronologically arranged, of military action and violence in the heart of the Boone's Lick during the Civil War, including the Battles of Boonville and Glasgow.
McVicker, Maryellen Harshbarger, Reflections of Change: Death and Cemeteries in the Boonslick Region of Missouri. A readable and richly detailed doctoral thesis, with dozens of illustrations, on burial grounds in the Boone's Lick. This work, monumental in more ways than one, is among resources on the history of the region's core (Saline, Howard, and Cooper Counties) available online at mo-river.net
Westhues, Kenneth, ""An 1868 Example of Missouri Talk: the Pritchett-Sweeney Debate," Boone's Lick Heritage 8 (March 2000). Insight into Boone's Lick culture is found in an 1868 religious debate involving J. H. Pritchett, a young minister from Howard County's most prominent academic family.