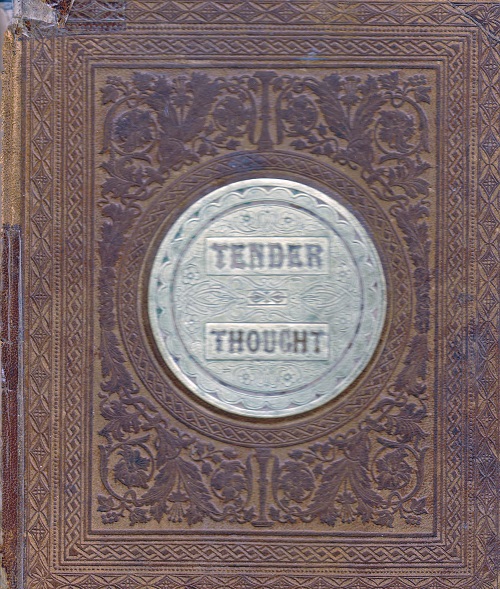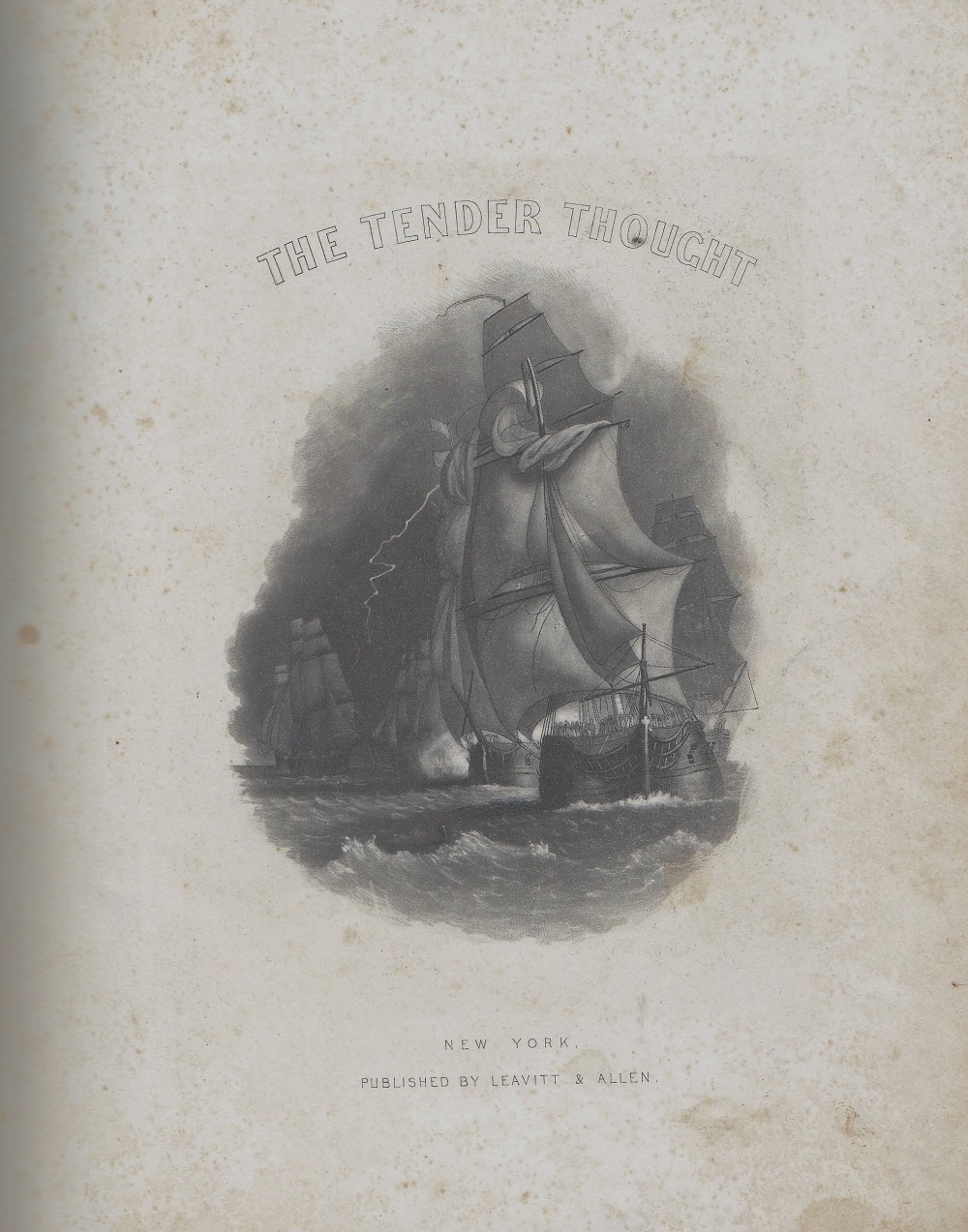 Cover: Embossed Morocco leather. Title page, showing a ship at sea.
PART ONE:
A WELL-OFF, PRESBYTERIAN, TEENAGE GIRL
This story is about a puzzling present I received ten years ago. It was an antiquarian treasure, an album of autographs, news, and kind sentiments written in Glasgow, Missouri, during the Civil War. My wife Anne spied it on ebay and bought it for my birthday.
That the book comes from Glasgow is obvious. Most of the forty inscriptions and messages include the town's name, as in "Cecilia English, Glasgow, Missouri, July 2, 1865." References abound to local skirmishes of the war. Dates range from 1863 to 1865, with a few in the next decade.
The mystery is whose album it was. Her first name was apparently Mary. Typical inscriptions begin, "Dear Mary," or "To Miss Mary."
As if to confuse the matter, one inscription from "W. H. G." begins, "To Mollie." This must be an exception, since "Mollie" herself signs a greeting on another page that is addressed to "Miss Mary." "Though our acquaintance is limited," it begins, "may it prove a blessing to each of us."
Mollie and Mary were friends, I conclude, but Mary owned the book.
No page, however, makes clear what Mary's full name was. None says "This book belongs to…," followed by Mary's full name. Of the many full names written in the album, none is set apart and identified as its owner. There is no title page except for the publisher's generic "The Tender Thought."
This four-part story lets you trace with me the clues I followed to find out who the mysterious Mary was. By the end of Part Four, you will know my answer. After studying the album, searching on Google, and piecing together little facts, I am sure I now know Mary's full name and what became of her.
If Mary's first name is the first clue, age is the second. An album like this was rarely given to a middle-aged woman, instead usually to a teenaged girl, to a Miss, not a Mrs. If Mary was between 15 and 20 years old when the album begins, in 1863, this would place her date of birth between 1843 and 1848.
A third clue is that she was probably from a well-to-do family. The album was not a cheap paperback. Produced by the New York company of Leavitt & Allen, its 75 gilt-edged parchment pages were lavishly bound in gold-embossed Morocco leather. Interspersed among the blank pages were line drawings by T. H. Matteson and George Morland, prominent artists of the time: "The Lovers," "Monks of St. Bernard," "The Sportsman," "Rural Life," and "The Justice's Court." The title page shows a ship at sea.
If the album was a luxury item in New York, shipping costs probably doubled its price by the time it got to Glasgow. Railroads did not reach the town until the 1870s. Freight came by riverboat. The album was the kind of extravagance from the East that affluent parents in the Trans-Mississippi might give a daughter, to use for autographs, a diary, poetic reflections, whatever writing she intended to cherish for a lifetime.
The final clue for now is Mary's religion. She belonged to the small Presbyterian congregation that had built its new church at the corner of Fourth and Commerce Streets in 1860. This Neo-Gothic architectural gem still stands, now serving as the community museum.
We know Mary was Presbyterian because the church's young pastor, James Addison Quarles, wrote in the album on July 27, 1863: "Dear Mary, I inscribe upon this page of your album, which your kindness has dedicated to me, the following lines from Alexander Pope: Oh, be thou blessed with all that Heaven can send…." There followed a classic verse the English poet had penned in 1724. Rev. Quarles signed his entry, "Your affectionate Pastor."
Quarles's autograph enhances the album's value, since we know from online sources that he later achieved academic prominence. When he wrote in Mary's album, he was just 26 years old and in his first pastorate. He was married and had begun a family that would eventually count ten children. A native of Boonville, he had graduated from Westminster College in Fulton, then studied at the University of Virginia and Princeton.
Quarles later ministered to larger congregations in Missouri, then moved to Lexington, Virginia, where he was appointed Professor of Philosophy at Washington and Lee University. His writings ranged from poetry to biography to social commentary. He was best known for having exposed a fraudulent prophet named W. D. Mahan, who falsely claimed to have discovered heretofore unknown ancient Christian texts. Quarles died in 1907.